Omaha Coalition Of Citizen Patrols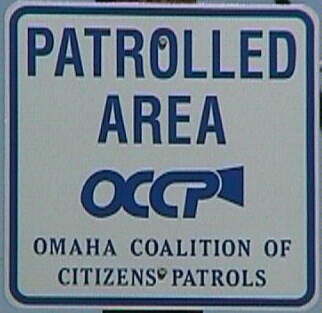 Welcome to the Omaha Coalition of Citizens Patrols Home Page.
Here in "Cyberspace" we can not be extra eyes and ears but we
can be a source of information.
Citizen patrols seek to work with local government to improve public safety and quality of life
in their communities. The Omaha Coalition of Citizens Patrols is comprised of volunteer
representatives from all of the over thirty citizen patrols in the Omaha area, with a mission to
promote the formation, training, collaboration and continued improvement of citizen patrols
throughout Omaha and the surrounding area.
The Omaha Coalition of Citizens Patrols, (OCCP) is made up of thirty six individual
neighborhood citizen patrols.
Each of the four Omaha Police Department precincts have citizen patrols with the Northwest
having the most, fourteen.
There are about one thousand patrol volunteers who gave nearly twenty thousand hours of
their time in 1998 to make Omaha a safer place to live.
OCCP and its member patrols extend an invitation to any neighborhood in the
Omaha Metropolitan area to contact E-Mail us at dcholmessr@hotmail.com .
Generally, patrols are started as a response to increased criminal activity in a given area.
After you start a patrol, you should expect that activity to decrease substantially,
if not entirely. Patrols drive around their neighborhood in an effort to show a visible presence
and send the message that crime and inappropriate activity will not be tolerated in this area.
Typically, citizens patrol their neighborhood at night and especially on weekend nights.
OCCP personnel are trained by The Omaha Police Department and OCCP's training staff
in a four hour session. The volunteers are trained to observe and report but NEVER
confront. We are not police officers and volunteers are required to sign an agreement that says,
in part, the patroller will not carry a weapon or anything that resembles a weapon, they will not
confront verbally or physically, and they understand that they will not attempt to arrest anyone.
OCCP is not affiliated with any agency, private or governmental.
We rely on donations from the public and grants from foundations. We are a 501 C3 non profit
organization and welcome donations.